Frog Digital Media of Belfast Innovation Factory
December 7th 2016
How a software developer became the latest tenant to set up at Innovation Factory.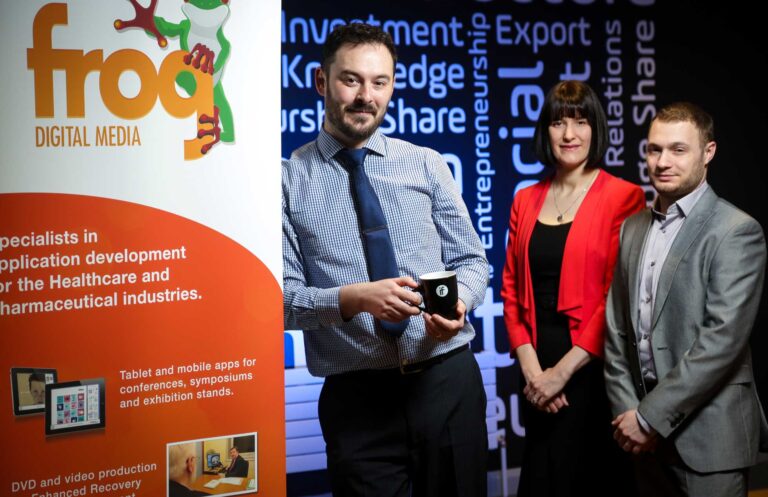 Frog Digital Media, a software developer which works on virtual reality and interactive learning technology, is the latest tenant to set up at Innovation Factory. Owner Andrew Hanley, who previously ran the business from his home, said his business had already benefitted from the innovation and growth support there.
"It's fantastic to be in an environment with other like-minded businesses who are interested in innovating, we can share our ideas and feel part of a growing community."
Andrew Hanley, Frog Digital Media
For Andrew, it was no longer suitable to work from home, but it wasn't just about finding really great premises. Another key benefit is the access to the support that Innovation Factory provides which help to take the business forward in the right direction.
More Case Studies
February 10th 2020
Customer Stories: Champion Designs
We spoke to owner Nadine Kearns about why she went into self-employment, what she is currently working on, what she particularly likes about being based at IF and her ambitions for the future of the company. How did you start Champion Designs? It was an interest and a talent […]
December 19th 2019
Customer Stories: Mullan Architects
Mullan Chartered Architects work hand in hand with their clients and contractors to produce outstanding buildings ranging from small domestic extensions/alterations and bespoke dwellings to large scale commercial and private developments. We spoke to owner Manus Mullan about how he came about running his own business, the projects he is […]
June 14th 2019
Customer Stories: New Era Global Sports
New Era Global Sports are a management company that represents Footballers, Managers and Media Clients.