Masterclass: Project Management That Delivers
May 15, 2018 @ 8:30 am

-

12:00 pm

Free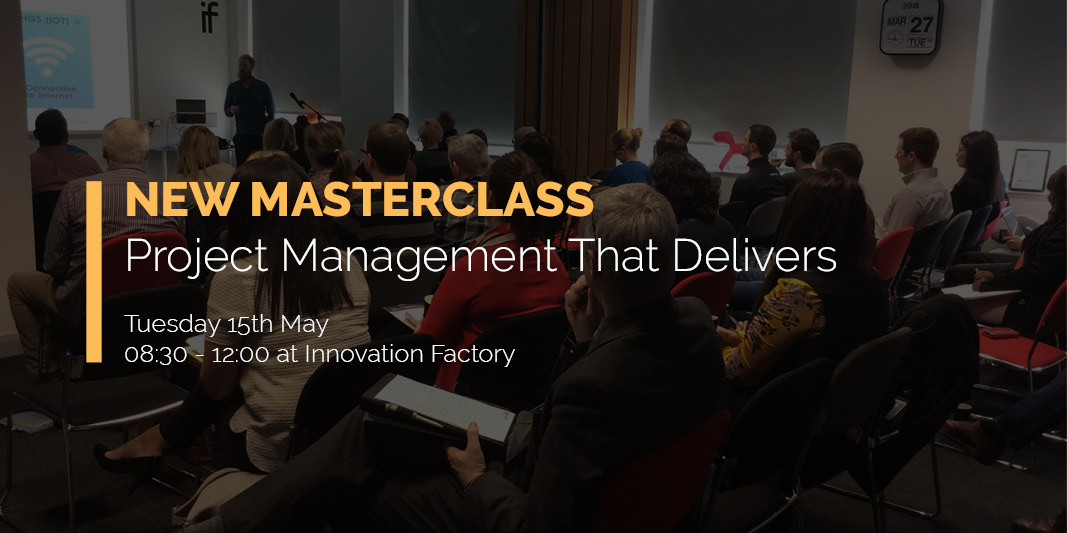 One of the key differences between a marketing campaign, research study or product launch being a roaring success or an abject failure, is how it is project managed.
Regardless of whether you're just formulating your great idea or if you're already out in the market selling your product or service; there are some critical tools that will help you set up for success. Innovative start-ups and micro businesses need straightforward, easy to use tools and techniques that deliver high impact results. Adopting good project management practice into all aspects of your business is the gift that keeps giving, time and time again.
By looking at how to define, scope, plan, control, monitor and evaluate typical projects, participants can then apply these approaches to their own in-house projects and at a stroke, significantly improve the efficiency and effectiveness of all their projects.
Project aims, goals and scope
Planning a project
Controlling issues, risks, changes and resources
Delivering a project
Closing and evaluating a project
Who is this Masterclass for?
Anyone for whom best in class project management practice would enhance their business processes. If you are ready to step up to the threefold challenge of delivering projects on time, within budget and to your customers' satisfaction; this is the master-class that will deliver the step change needed in all your projects.
Workshops run by experts
David McComb – Director at Full Circle Management Solutions
Full Circle Management Solutions Ltd is one of Northern Ireland's foremost management consultancy practices. We attribute our success to our passion for excellence, our ability to help clients to achieve positive and tangible change and our preparedness to "go the extra mile" on each and every assignment that we work on.