Masterclass – Web Design and Development for Non-Coders
October 10, 2018 @ 8:30 am

-

12:00 pm

Free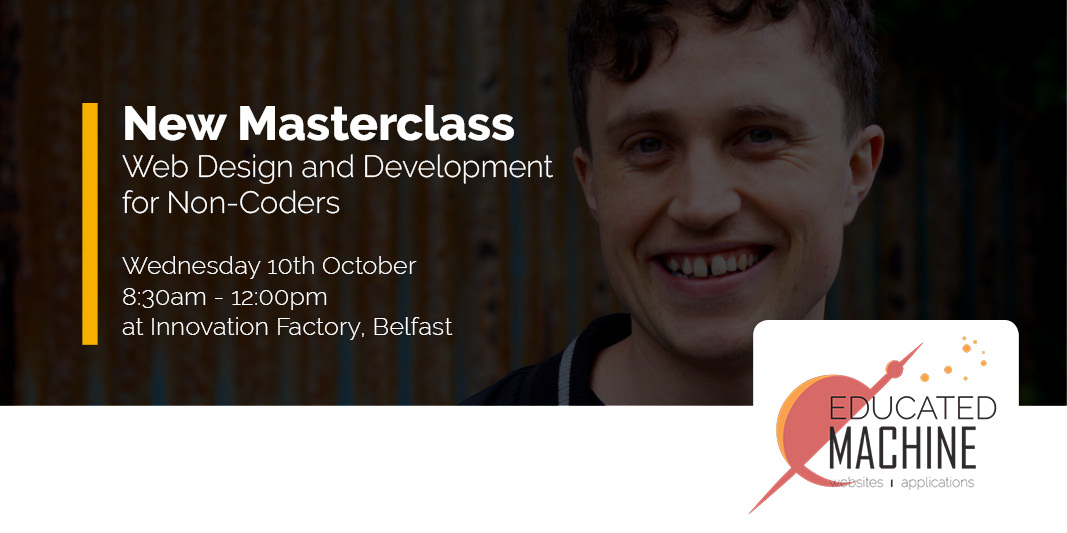 Despite the need for businesses having an online presence, there is still a huge gap between a good website and an AMAZING website. So, why is it that even though its never been easier to get online, it seems to be harder than ever to build an effective website?
It all comes down to planning, design and education.
Over the course of this half-dat Masterclass you will acquire a new mindset when it comes to building your business website. You will learn how to think about developing your website and the basic skills required to create one.
In addition to this, you will learn how to get what you want from designers and developers by understanding the various terms that exist in the digital sphere. We will also showcase the different tools and plugins available for businesses to help you build your ideal site.
Topics covered include:
Hosting and domains
Testing and launching
Keeping it simple
Basic Terminology
Updates and backups
Different Platforms and Options
This course is designed for businesses who want or need an online presence but don't quite know the current landscape and want to know what is available and what is possible within a reasonable budget.
Still feel like you might need more help? If there is time, at the end of the session you will be offered the opportunity to attend a free one-to-one mentoring session.
Workshops run by experts
Educated Machine
Educated Machine is a Development and Training company based in Galway City. They facilitate courses and events in both the Republic of Ireland and Northern Ireland, providing high quality courses to students and business people who wish to learn about development, analytics and digital marketing.
Their aim is to help businesses learn essential digital skills to make their business perform better in their chosen area. As a small business they understand the challenges faced by companies struggling in their chosen market and have developed training sessions to help businesses directly and efficiently.
Educated Machine's development team handle WordPress, Android and IOS projects for a variety of clients, keeping a head of the curve in an ever evolving industry.