Masterclass – App Development and Design
November 14, 2018 @ 8:30 am

-

12:00 pm

Free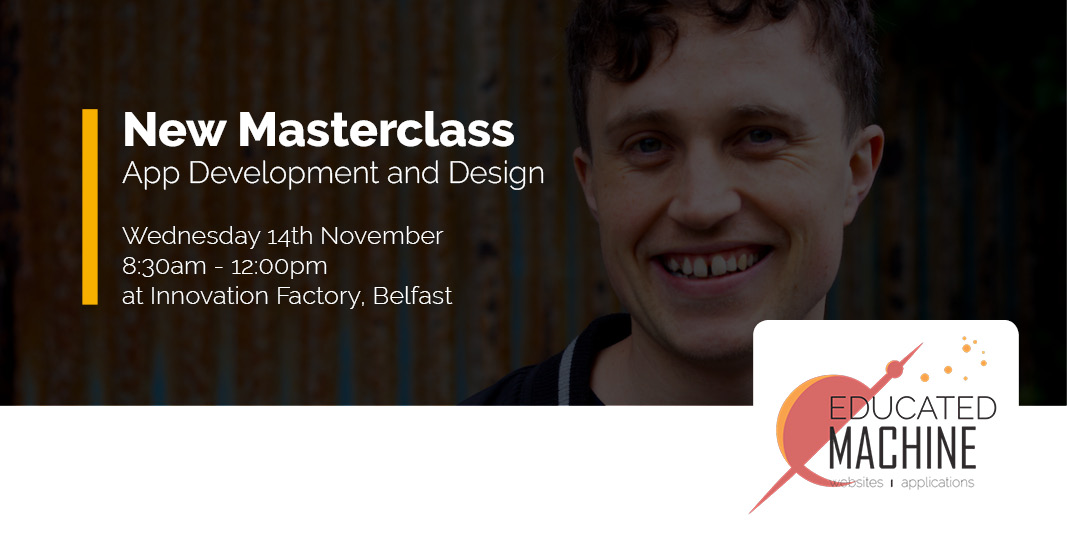 People worldwide use smartphones and tablets to organise their lives, something the world of business knows all too well.
Each device is a potential point of sale and every user a potential customer. Creating innovative apps that allow users effortless access to goods or services has become a source of growth for companies who can identify and act upon opportunities to reach their market through the technology already in the hands of millions.
This Masterclass will teach you how to think creatively so you can identify the solutions and innovations that will provide your business with new opportunities. The design process will be broken down also, showing how apps themselves get from the drawing board to the app store and all in between.
This session will cover:
Knowledge of good practice in software design. Learn how to find the right aesthetic for your app to better suit its purpose and its users.
Design and the user experience – Experience design insight, see how user interaction with software is planned and executed to provide a smooth user experience.
An understanding of the fundamental languages that go into app development – Attendees will see the technical requirements it takes to build an app of their own.
Identifiable learning paths – Attendees interested in developing their own apps will be shown how to further explore the topics covered in class and how to expand their skill set to allow them create apps of their own.
Still feel like you might need more help? If there is time, at the end of the session you will be offered the opportunity to attend a free one-to-one mentoring session.
Workshops run by experts
Educated Machine
Educated Machine is a Development and Training company based in Galway City. They facilitate courses and events in both the Republic of Ireland and Northern Ireland, providing high quality courses to students and business people who wish to learn about development, analytics and digital marketing.
Their aim is to help businesses learn essential digital skills to make their business perform better in their chosen area. As a small business they understand the challenges faced by companies struggling in their chosen market and have developed training sessions to help businesses directly and efficiently.
Educated Machine's development team handle WordPress, Android and IOS projects for a variety of clients, keeping a head of the curve in an ever evolving industry.