Masterclass – Data Analytics and Visualization
November 28, 2018 @ 8:30 am

-

12:00 pm

Free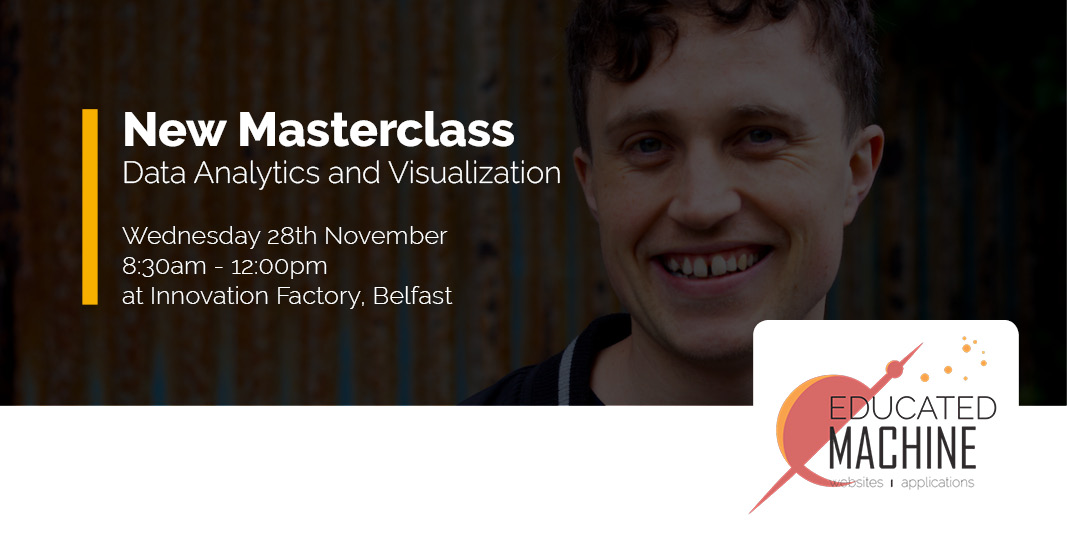 Data Analysis was once a luxury only large companies and corporations could take advantage of. However, with the availability of affordable tools and improved access to existing datasets it's become more accessible to small and medium sized businesses than ever before.
The main obstacle facing many companies from taking advantage of data analysis is being able to make sense of the blitz of data produced by billions of users every day. Data is an invaluable byproduct that can be collected and studied to reveal the habits needs and wants of users along with the performance and productivity of employees and company processes.
In this class you will learn how to:
Harness the data relevant to your industry
Visually translate the data so it is easy to understand
Use the data to help your business make better informed decisions
If your business has struggled to study market data in the past or is looking to start making more informed decisions based on the findings data can produce, this class is essential. Good data analysis keeps many industry leaders ahead of the curve and with their tools now available to everybody, smaller businesses and individuals can begin to close the gap between them and their competition.
Still feel like you might need more help? If there is time, at the end of the session you will be offered the opportunity to attend a free one-to-one mentoring session.
Workshops run by experts
Educated Machine
Educated Machine is a Development and Training company based in Galway City. They facilitate courses and events in both the Republic of Ireland and Northern Ireland, providing high quality courses to students and business people who wish to learn about development, analytics and digital marketing.
Their aim is to help businesses learn essential digital skills to make their business perform better in their chosen area. As a small business they understand the challenges faced by companies struggling in their chosen market and have developed training sessions to help businesses directly and efficiently.
Educated Machine's development team handle WordPress, Android and IOS projects for a variety of clients, keeping a head of the curve in an ever evolving industry.