Masterclass – Data Analytics and Visualisation
November 21, 2017 @ 9:00 am

-

12:30 pm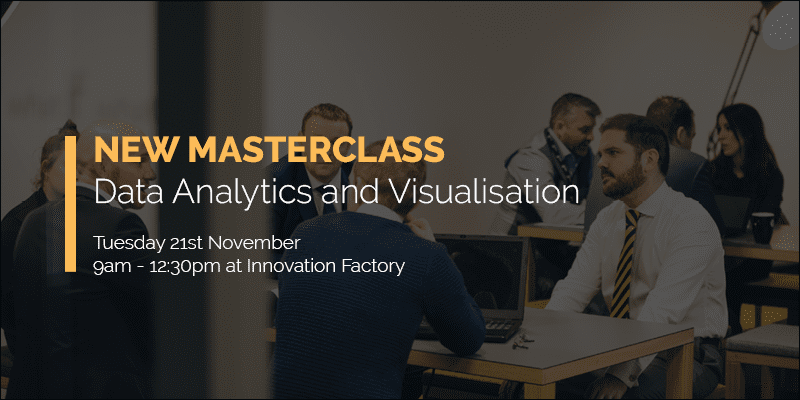 Data Analysis was once a luxury only large businesses could take advantage of. However, with the availability of affordable tools and improved access to existing datasets it's become more accessible to small and medium sized businesses than ever before. The main obstacle facing many businesses from taking advantage of data analysis is being able to make sense of the quantum of data produced by billions of users every day.
Data is an invaluable by-product that can be collected and studied to reveal the habits, needs and wants of users along with the performance and productivity of employees and business processes. This Masterclass will focus on how to harness the data relevant to an industry and visually translate it into easily understandable content that will help a business make better informed decisions.
If a business has struggled to study market data in the past or is looking to start making more informed decisions based on the findings data can produce, this class is essential. Good data analysis keeps many industry leaders ahead of the curve and with their tools now available to everybody, smaller businesses and individuals can begin to close the gap between them and their competition.
What attendees will take away from the class:
Knowledge of the tools available to gather data.
The ability to identify existing data sets on their chosen industry.
An understanding of how data can be used with languages such as Python & Java to produce better results.
How to visualise data findings for presentation to audiences/business partners etc.
Insight into Exploratory Data Analysis